Setup
The plugin works only with the real device.
Few setup action should be completed before you can use the plugin.  If the plugin isn't installed (for example it was just imported to the project) the settings window will be opened automatically in the Inspector view. If for some reason it wasn't opened after you imported the plugin, go to:
Window → Stan's Assets -> Android Native → Edit Settings
And just press Install Plugin button.  If the installation was completed successfully you should see the message as shown in the picture below:
Android Native Plugin supports Facebook SDK. You can download the latest version from the plugin settings:

Note: With Facebook SDK your app size will be increased
If you are not using the plugin Facebook Part, feel free to remove it, by pressing Remove Facebook SDK
You can also manage API's with is included in the plugin simply enabling / disabling checkboxes:
How to update
Plugin is constantly under development, which means with every update comes with new feature and fixes. One more important thing, that new update also can come with the plugin API refactor. Plugin structure, method and classes names can change. It will be of course described in the  Version Notes.
It is important to stay up to date, since with the update you getting not only new features, but also important fixes and updates to support new OS / Unity versions. However constant plugin update is not requirements. If you satisfied with the current version and do not want to spend some time on updating procedure, you can stay with this version as long as you want.

Note: If you found bug, or something is not working as described in documentation, please update to the latest plugin version, before contacting support, since this is first suggestion which you will get from the support team, and most likely update will fix your issue impliedly. 
Upgrades Best Practices

IMPORTANT! If you not using Version Control System, make sure you did a backup before updating the plugin.
1) Completely remove old plugin version from your project. You can do this automatically as shown on the screenshot bellow.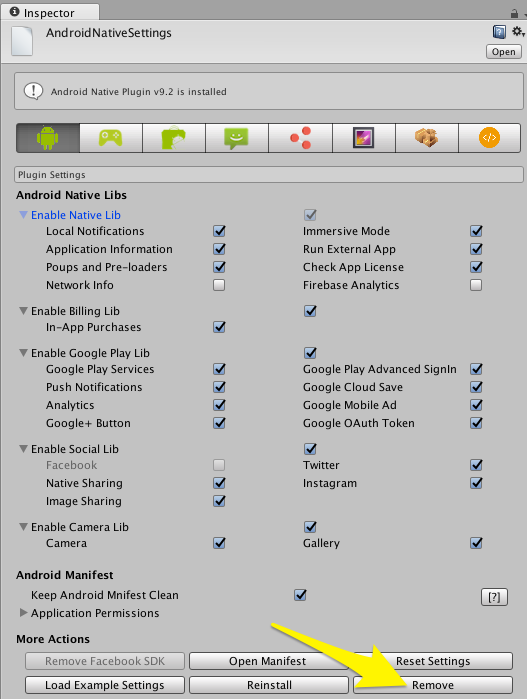 2) Import and install new plugin version.
Notes:
1. When you removing the plugin, your project files, and plugin settings will stay unharmed. which means you do not need to fill up plugin editor settings again after update.
2. If you have more that one Stan's Assets products in your project, it will be removed as well. Such behaviour was designed in purpose. Stan's Assets products are fully compatible with each other, but to achieve this compatibility you should use plugins version released in the same time.
For example, you have following plugins in your project
Android Native  v6.7(released 05 Jul 2015 ) 
IOS Native v7.2 (released 05 Jul 2015 ) 
Mobile Social Plugins v6.7 (released 05 Jul 2015 ) 
You can't just update Android Native to v6.8(released 10 Aug 2015 ), you need to  update other plugins as well, so after updating you should have following plugin versions:
Android Native  v6.8(released 10 Aug 2015 ) 
IOS Native v7.2 (released 10 Aug 2015 ) 
Mobile Social Plugins v6.8 (released 10 Aug 2015 ) 
If your updating minor version for example you updating IOS Native from 7.2 to 7.2.1, plugin removing is not required. You can just import new version, and following instructions in the editor UI if any appear.
How to compile Android Native JAR libs
How to merge manifest with another android plugin
If the plugin has a conflict with the IOS / WP8  / Android (which does not override the main activity) Please contact support team