Unity Ads
The guide covers the Unity Ads advertisement platform set up.
Installation
Expand the Unity Ads tab, and follow the installation instructions. 
All you need to do is to download and install Unity Monetization SDK into your project. Once it's done you can fill the client settings.
Settings
Feel free to fill setting using the Editor UI. See the screenshot below.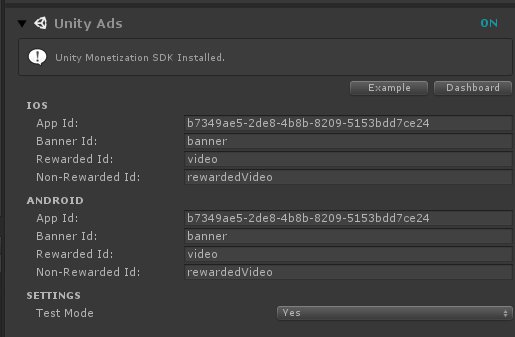 In case you prefer to fill setting using scripting, you can also do this. Please see the code sample below:

using SA.CrossPlatform.Advertisement
...

var settins = UM_UnityAdsSettings.Instance;
var android = settins.AndroidIds;

android.AppId = "2941900";
android.BannerId = "banner";
android.RewardedId = "video";
android.NonRewardedId = "rewardedVideo";

var ios = settins.IOSIds;
ios.AppId = "2941899";
ios.BannerId = "banner";
ios.RewardedId = "video";
ios.NonRewardedId = "rewardedVideo";